Overall Review
LG 65NANO99UPA NanoCell 99 Serie 65″ 8K Smart UHD NanoCell TV
Echtes 8 K Nanocell-Display: Erwecken Sie Ihre Lieblingssendungen zum Leben mit hellen, lebendigen NanoCell 8K. Full Array Dimming Pro bringt Ihnen brillante Farben, tiefes Schwarz und revolutionäre Hintergrundbeleuchtung Kontrolle. Und mit Nano Color Pro sehen Sie natürliche, lebensechte Bilder, die durch eine Milliarde satte Farben verstärkt werden.

α9 GEN 4 AI-Prozessor 8K: Der A9 Gen 4 AI Prozessor 8K wurde speziell entwickelt, um 8K Leistung zu versorgen, erkennt und verbessert jedes Detail, das Sie auf dem Bildschirm sehen. Sogar Ihre Nicht-8K-Inhalte sehen aus wie 8K mit AI 8K Upscaling. Außerdem bieten AI Picture Pro und AI Sound Pro klarere, glattere Bilder und maximale Klangqualität.

TRUMOTION 240 (nativ 120 Hz): TruMotion 240 Technologie reduziert Unschärfe und schärft jedes Detail mit bis zu 240 Bildern pro Sekunde – für schnellbewegende Spielsequenzen ein kristallklares Aussehen für Bilder, das sich mit Ihnen bewegt.

Heimkino-Erlebnis: Holen Sie sich atemberaubende Bilder und Audio, die Sie fühlen, als wären Sie in der Action mit Cinema HDR, Dolby Vision IQ und Dolby Atmos. Sehen Sie Filme genau, wie Regisseure mit dem Filmemaker-Modus beabsichtigt haben. Und mit integriertem Zugriff auf Netflix, Prime Video, Apple TV+, Disney+ und LG Kanäle sind Ihre Lieblings-Inhalte immer griffbereit.

Ultimatives Spiel: Das Gameplay geht noch weiter mit dem Game Optimizer, der Ihnen einfacheren Zugriff auf alle Ihre Spieleinstellungen, automatischen Low-Latency-Modus und dynamischeres Spielen von HGiG bietet.
Positive Points
Mini LED local dimming helps it display deep blacks.
Fairly wide viewing angles.
Great peak brightness.
Excellent brightness and overall contrast
Good upscaling
Fetching design
Selbst die Details sind noch detaillierter.
Erleben Sie alles im Detail mit LG NanoCell 8K. Unser fortschrittlichster 8K AI-Prozessor optimiert Komposition, Schwarz, Licht und Farbe in jeder Szene. Sehen Sie natürliches, lebensechtes Bild durch Nano Color Pro und die schnelle Aktion der nativen, 120 Hz Bildwiederholrate, weite Sicht und die tiefen Schwarztöne und Kontrast des Full Array Dimming Pro. Und AI 8K Upscaling lässt alles, was Sie sehen – einschließlich Nicht-8K Inhalte – wie 8K aussehen.
*Die Bildqualität der hochskalierten Inhalte variiert je nach der Quellauflösung.
LG NanoCell TVs. Alive with True Colors in Real 8K
Bring your favorite shows to life with bright, vivid NanoCell 8K. Full Array Dimming Pro brings you more brilliant colors, deep blacks and revolutionary backlight control. And with Nano Color Pro, you'll see natural, lifelike picture enhanced by a billion rich colors.
Every Color Crystal Clear
LG NanoCell TV utilizes nanoparticles, our own distinctive Nano technology, to filter and refine color, removing impurities from RGB wavelengths. This means that only true, accurate colors will be displayed on screen. The result is a more vibrant, more realistic picture that will bring your content to life.
Why Real 8K?
LG NanoCell TV delivers a Real 8K experience that's up there with the best. NanoCell's mastery of color, combined with approximately 33 million densely packed pixels, delivers a stunning, high-resolution picture that far surpasses the standard for 8K TV.
α9 Gen4 AI Processor 8K
Vivid Detail Powered by the Latest 8K Processor
The α9 Gen4 AI Processor 8K enhances every detail with AI 8K Upscaling, while AI Picture Pro and AI Sound Pro give you clearer images and maximum sound quality.
*Image quality of upscaled content will vary based on the source resolution. **The images simulated to enhance feature understanding.
AI Picture Pro
LG's best picture possible
Get more cinematic visuals with the help of AI Picture Pro. Our most advanced processor factors in source and genre, enhancing faces for more realism and upscaling text for better readability.
AI Sound Pro
Sound made better
Immerse yourself in optimized sound with AI Sound Pro. LG NanoCell TVs automatically recognize genres, enhance dialogue, balance volume levels when you switch sources, and up-mix output for virtual 5.1ch surround sound — all before you've settled into your favorite spot on the couch.
AI 8K Upscaling
Elevate every image
The AI processor uses deep learning algorithms to analyze what you watch and transform non-native 8K content into stunningly immersive 8K. The resulting image is sharper with noticeably higher levels of definition and detail, even when viewed on our biggest screens.
Bring Cinema Home
Get breathtaking picture and audio that makes you feel like you're in the action with Cinema HDR, Dolby Vision IQ & Dolby Atmos. See movies exactly how directors intended with Filmmaker Mode. And with built-in access to Netflix, Prime Video, Apple TV+, Disney+ and LG channels, your favorite content is at your fingertips.
Netflix streaming membership required. 8K Ultra HD availability subject to your Netflix subscription plan, internet service, device capatibilites, and content availibity. www.netflix.com/TermsOfUse
Dolby Vision IQ & Dolby Atmos
A transformative TV experience
Dolby Vision IQ* uses best-in-class HDR technology to automatically adjust picture settings based on ambient lighting conditions and content genres. Dolby Atmos® puts you in the middle of the action with multi-dimensional surround sound that seems to flow all around you.
*Dolby, Dolby Vision IQ and the double-D symbol are registered trademarks of Dolby Laboratories.
**The images simulated to enhance feature understanding.
Entertainment
Home to all your favorites
Access the Netflix, Disney+, Apple TV app, and Amazon Prime video. Choose from the latest movies, TV shows, documentaries, and live sports, and find them all in one place.
*Netflix streaming membership required.
**Apple, the Apple logo, and Apple TV are trademarks of Apple Inc, Registered in the U.S. and other countries.
***Disney+ subscription required. Subject to terms at http://www.disnetplus.com ⓒ 2020 Disney and its related entities.
****Amazon, Prime Video and all related logos are trademarks of Amazon.com, Inc. or its affiliates. Amazon Prime membership and/or Prime Video fees apply. See primevideo.com/terms for details.
*****Supported service may differ by country.
Darkness Brings Out the Detail
LG NanoCell TV isn't afraid of a dark space. With Full Array Dimming Pro, NanoCell precisely controls individual LED backlight units. This results in deeper blacks and minimal backlight bleeding for greater contrast and a more detailed picture.
Wonder From Every Angle
NanoCell TV's absolute color ensures that colors are displayed accurately for a realistic picture even when viewed from wide angles.
*Certified by Interteck that 100% Color Consistency measured to CIE DE2000 with 18 color Macbeth patterns with viewing angle ±30°.
**100% Color Consistency is supported on all sizes of the NANO99, NANO95, NANO90, and NANO85 models. All models supporting 100% Color Consistency have been certified by InterTeck.
***The images simulated to enhance feature understanding.
ThinQ AI
TV with an IQ
Control your LG smart products and other smart devices right from your TV with Home Dashboard or with the Magic Remote voice control. ThinQ AI plus Google Assistant and Alexa built-in let you control your entire connected home.
*Internet connection and subscriptions required.
New Home
Entertainment access, now ever easier
The newly designed home screen shows personalized content suggestions, gives you easier access to favorites, and lets you control connected devices all in one place.
New Magic Remote
Find your favorites fast
Spend more time watching with the new Magic Remote. With point, click and scroll, voice control and button shortcuts for content providers, you'll find your content faster than ever before. Easily share your mobile content on the big screen with Magic Tap.
*The Magic Remote must support NFC to use the Magic Tap feature.
**Magic remote availability differs by country.
Voice Command
Your central hub of convenience
LG NanoCell TVs come with Google Assistant* and Alexa** built-in. There's no need for an extra device – just ask your TV for music, weather, news, your Amazon shopping list, and more. Plus, conveniently control your connected home and smart devices.
*Google is a trademark of Google LLC.
**Supported menus and apps may vary by country.
***Menus displayed may be different upon release.
****Voice Command availability may vary by products and countries
This isn't Just Big. It's Epic.
LG NanoCell TV maximizes your experience with an Ultra Large Screen. Movies, sports, TV, and gaming are more immersive than ever when viewed on our huge, high-resolution displays.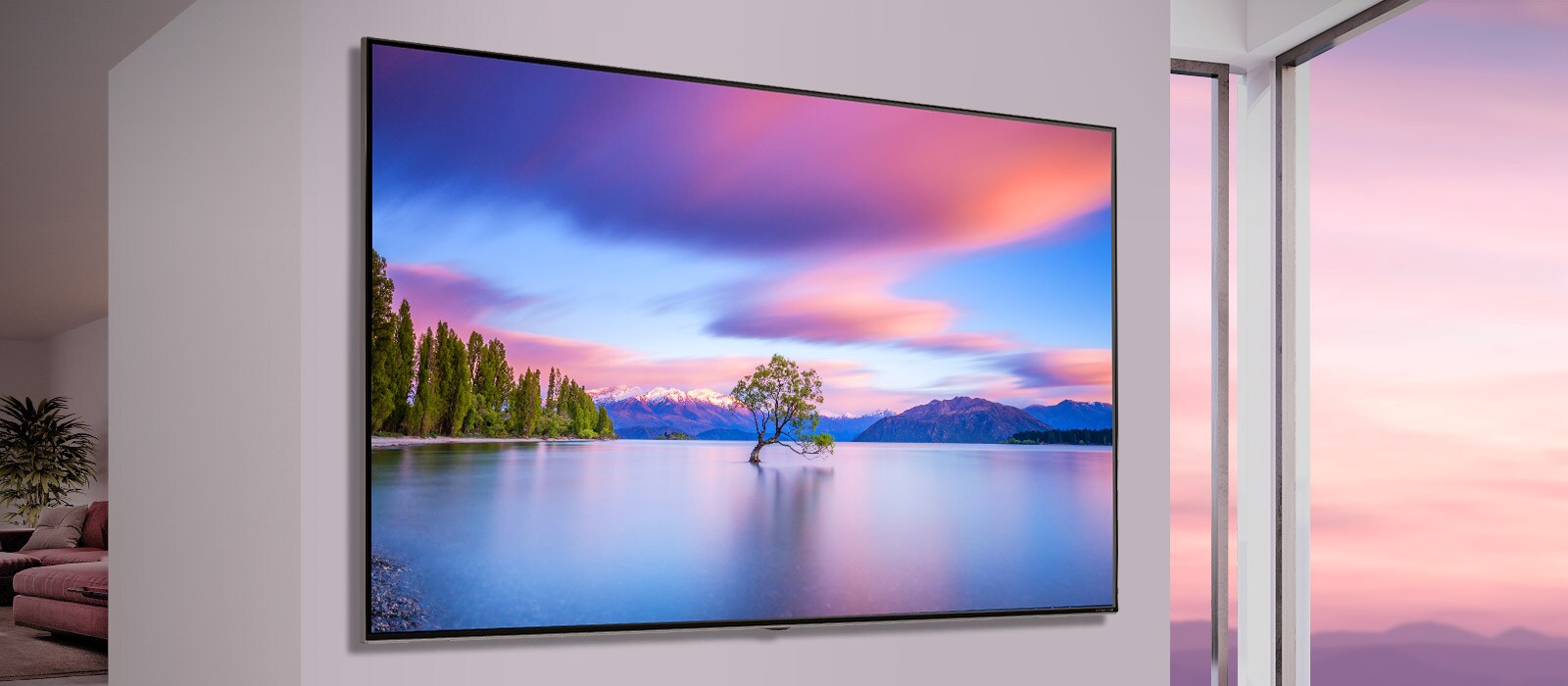 TV with an Artistic Side
Designed with home aesthetics in mind and a sleek, minimalist look. It's a TV that hangs snug on your wall like a work of art to maximize your space.
*The cable may be visible depending on installation environment.
**Depending on installation environment there may be a slight gap between the TV and the wall. Installation requirements vary.
Nano Gaming.
TV with a Ton of XP.
Experience gaming on NanoCell. Game Optimizer gives you easier access to all your game settings and you'll get Auto Low-Latency Mode plus HGiG for a detailed gaming picture.
Game Optimizer
Level up to smooth gaming
Gameplay goes even further with Game Optimizer which gives you easier access to all your game settings.
ALLM
Don't miss a beat
When you throw on your favorite video game, your LG TV automatically switches to a low-latency mode for less lag. You don't have to worry about adjusting any settings and your gameplay doesn't have to slow down.
HGiG
Immerse yourself in the game
HGiG drops gamers right into the action, recognizing TV performance and picture quality to provide the ultimate HDR gaming experience.
Nano Sport.
Match winning performance.
LG NanoCell TV delivers a thrilling match-day experience. Bluetooth Surround Sound brings the full stadium atmosphere into your home, while Sports Alerts keep you up-to-date with all the latest news from your favorite teams.
Sports Alert
Never miss your team's games
When your favorite team is on, you'll know. With Sports Alert, you can set your favorite teams and players and get updates before, during and after games – even when you're watching other content.
*Usage may vary by country.
Bluetooth Surround Ready
Instant surround sound via Bluetooth®
Wireless surround sound has never been easier. Connect any single compatible Bluetooth speaker or up to two speakers*, including LG XBOOM Speakers, for a true surround sound experience – without wires.
Read More